Back
An Online Dentist Consultation Connects You to a Professional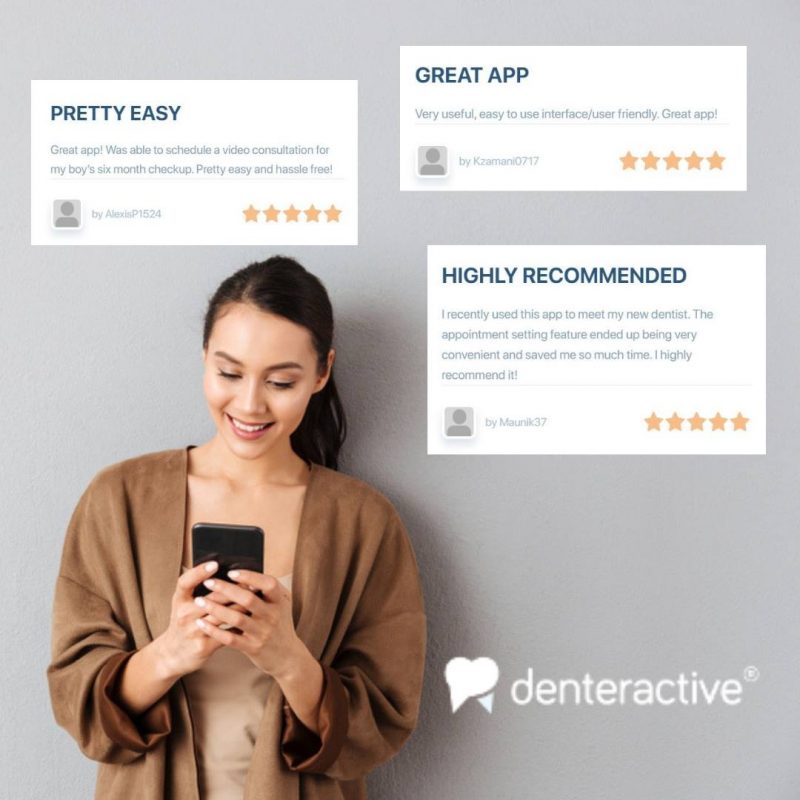 When it comes to getting advice from a dentist, there are different approaches you can take. You can try looking up your issue online, but then you might have to deal with the anxieties of self-diagnosis. You can also try calling your regular dentist on the phone and trying to explain what the issue is, but how are they supposed to look at it? If you are looking for an effective online dentist consultation, the best thing you can use is the Denteractive service.
Online Dentist Consultations
Denteractive allows you to text and talk to a dentist online live. With our app, you'll be able to share pictures, videos, and medical history files with one of Denteractive's many on-call dentists. This way, they properly evaluate you with the right context. We have a group of available professionals ready to tend to your call. In case of emergencies, you can talk them live with them for instructions on how to proceed. This system was designed, in part, so that you could still contact a dentist while away on vacation or a business trip. However, now more than ever it's proving to be a valuable tool for our everyday lives.

Getting the Necessary Help
Whether you have a sudden dental emergency or you're in need of some cosmetic smile advice, Denteractive is there to connect you to one of several trustworthy dentists in a simple, convenient way. As you can see, teledentistry offers the benefits of a regular dental consult without the trouble of having to leave your home or making time for an actual appointment. The current circumstances call for prudence in regards to when you leave your house. Now you don't have to worry about going to a doctor's office for something that, under the proper guidance, you could treat for yourself at home. You can contact a specialist from the comfort of your home without worrying about potential contact with someone infected.
Schedule In-Person Consults if Needed
Sometimes, the problem you are having will need an actual dental appointment. That makes sense, of course. After all, it's not like your dentist can remove an infected tooth from across a phone line. Still, the purpose of an online dentist consultation is not to supplant your dental checkups or in-person appointments. On the contrary, it's meant to supplement them. An online consult can inform you about the situation, get a prescription if necessary, calm you in terms of the process to follow, and prepare you for the next few steps. If necessary, Denteractive can help you set up an appointment with a professional near your zipcode so that you can have the problem resolved in person!
Contact an Online Dentist
Our main objective here at Denteractive is to provide you with the right tools and access so that you can receive proper dental attention. We do this by connecting you to the right professionals, giving you the right platform to communicate with them, and helping you schedule an in-person appointment with a nearby one if needed. Make sure to visit our website and download our mobile app in order to ask an online dentist about whatever problem you might be having. An online dentist consultation is a mere app download away.