Back
How Dentists Can Put Patients First and How Teledentistry Can Help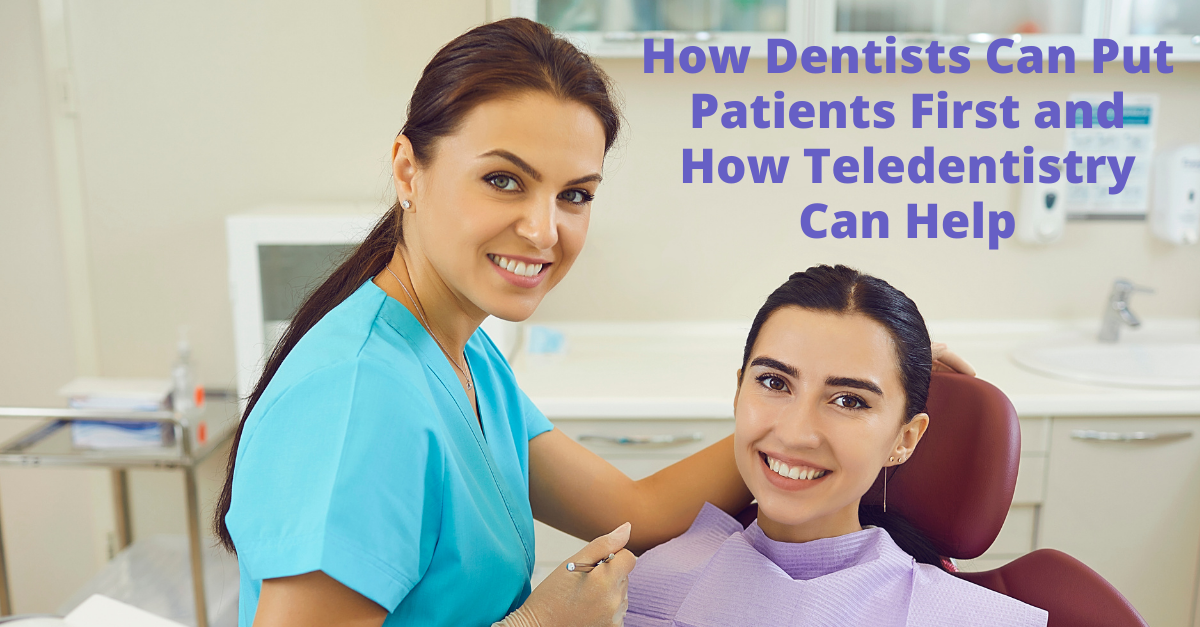 To be successful, dentists not only need to attract patients, but they need to retain them as well. As with any business, it's less costly to retain existing customers than to attract new ones. To keep patients and not lose them to other dental practices, dentists need to find ways to put their patients first, making them feel comfortable as well as cared for. You can put your patients first by keeping the following ideas in mind. Running a successful dental or medical practice isn't only about providing expert care; it's about pleasing your patients, so they continue to schedule appointments with you and refer other patients to your practice.
Diverse Payment Options
Nationally, only about 50% of Americans have dental insurance. Yet, everyone needs dental care to ensure that they maintain the health of their teeth and gums. Dentists who accept only certain dental insurance plans or who choose not to accept patients without insurance may be missing out on a big market of patients. Moreover, many people leave or lose their jobs. When they leave their jobs, they may also leave their dental insurance. If you don't accept the patient's new insurance plan or they no longer have dental coverage, you're going to lose them as a patient.
Naturally, it's essential for dentists to be paid for their services. Dentists have bills too. However, if your practice can find ways to offer more payment options to your patients, you're likely to retain more of them and earn more patient referrals too. You might offer financing options or payment plans for patients who don't have dental insurance or whose coverage is quite limited.
Good Chairside Manner
If you ever listen to patients talk about healthcare providers–why they like one or why they've avoided one–you're likely to hear them mention the term 'bedside manner.' Healthcare providers with gruff, unfriendly demeanors tend to put people off. They make people feel uncomfortable, and that discomfort can color the entire appointment. Of course, it's quite true that poor bedside manner does not necessarily indicate poor health care. On the contrary, many medical professionals, including dentists, will simply say that they're so focused on their work that they forget that they need to 'market' themselves as friendly too.
Nevertheless, if you are committed to putting your patients first, that means you're willing to put their feelings first too. Making patients feel comfortable helps them to get through an experience that, physically, is not always going to be pleasant. Improving your chairside manner can help you to retain more patients with your friendly personality.
There are many ways you can improve your chairside manner. You can take a bit of time to get to know your patients. Getting to know them suggests that you care about them. A dentist who cares about more than getting paid for pulling a tooth or drilling for a filling is going to be more pleasing to most patients than one who is uninterested in their patients.
Respect Patients' Time
Nobody wants to spend more time than necessary sitting in a dental waiting room. And yet, there are many stories where patients have had to wait more than an hour for their scheduled appointment. When a practice routinely runs behind, it suggests that it doesn't really value patients' time. And their time is certainly important. They have jobs and family obligations too. By making patients wait too long to see a dentist, you're demonstrating that you don't respect their time–and that's not a sign of putting them first.
If scheduling is a problem for your practice, take time to revamp your procedures to reduce wait times. Overbooking or improper time allotment for various dental procedures can throw the practice's schedule out of whack. Use a tool, such as Denteractive partner NexHealth, to manage online appointments and scheduling.
Market Your Safety Protocols
These days, safety from contagion is paramount for patients. Of course, safety has long been a concern for dentists too. Dental practices invest heavily in safety features such as equipment used to sterilize dental tools. Safety protocols and procedures govern day to day life for a practice. With COVID-19, even more safety protocols have been put into place in dental practices around the country. Dentists, like other healthcare providers, are tasked with reducing the risk of contagion for themselves, their staff members, and their patients.
To show your patients that you take their safety to heart, be sure that you communicate what you do to keep them safe. Market your safety procedures, in other words. Let them know how committed you are to reducing the spread of infection among patients. The fact is, many patients are very concerned about the risks of contagion and may even put off visiting their dentists at this time. By incorporating safety protocols and communicating them effectively, you can persuade patients to continue to prioritize their dental care.
Communicate Effectively
Do you take time to communicate well with your patients? Many dentists will recommend procedures for patients and send them out the door. Too often, busy dentists forget that their patients don't share their expertise and knowledge of procedures that are everyday matters for them. Be sure that your patients understand what you have to say about their dental health and why you recommend certain treatments.
If your practice is so busy that you don't have time to consult with patients to answer all of their questions, send someone on your staff who is also knowledgeable to discuss matters with patients on your behalf. Patients never want to feel brushed off. By improving your communication with patients, you can show them that they matter.
You may also want to invest in different methods of communicating with your patients such as email and text. Good communication is a hallmark of successful dental practices.
Offer Teledentistry Services
Many dentists, just like you, are now adopting teledentistry platforms like Denteractive for their practice. Teledentistry has become increasingly popular since the onset of COVID-19 pandemic, but patients now like the option of meeting virtually with their dentist so much that many practitioners are making it a core focus of their dental practice and adapting them for all sorts of services that can be performed via messaging and video chat.
Of course, you can't fill a cavity or pull a tooth over a virtual platform, but you can diagnose problems without the need to see the patient in their dental chair and offer prescriptions via Denteractive partner eazyScripts. You can consult with patients and discuss treatment options with them. In this way, teledentistry eliminates the need for patients to visit the office and wait in a waiting room. Instead, they can meet with you without ever leaving their home or even taking the morning or afternoon off work.
Teledentistry is a service that many patients want as an option. Offering it tells patients that you care about their preferences and are investing in innovative ways for putting them first. Teledentistry also offers numerous benefits. It can help reduce office appointment wait times. It can enable you to meet with more patients each day. And, of course, more appointments do translate into more income for the practice.
Has your practice learned about teledentistry? See how Denteractive can help your practice with the most complete HIPAA compliant teledentistry platform. Get started for Free. View our pricing page here: https://denteractive.com/professional-membership-tiers/