Back
Visiting a New Dentist for the First Time? Don't Forget to Ask These 4 Questions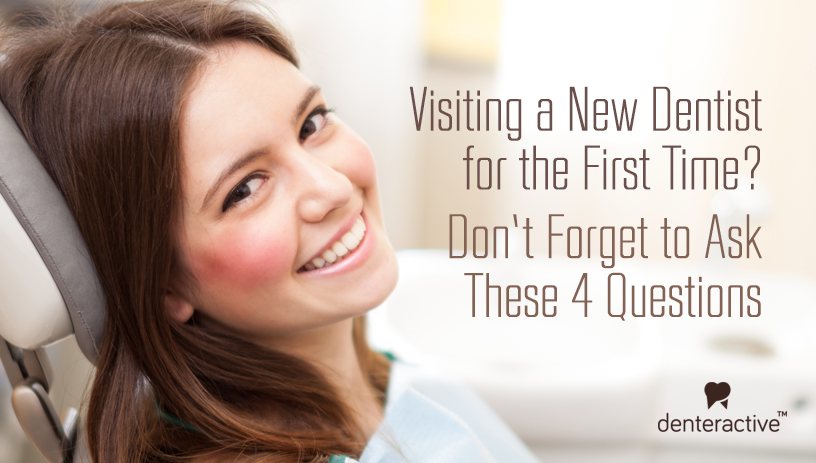 If you're looking for a new dentist, you're no doubt talking with a variety of professionals and trying to gauge which one is the ideal dentist for you. Finding a new dentist shouldn't just be as simple as walking into a dental clinic and signing a form; you should have an opportunity to get to know your dentist and judge for yourself whether you can see yourself as a patient at their practice. When you visit your new dentist for the first time, ask these four questions to ensure you're seeing a professional who is a great fit for you.
What's Your Specialty?" – Finding Your Dentist's Niche
Many dentists choose a dental specialty to pursue while in dental school. Your dentist might specialize in pediatric dentistry, endodontics, orthodontics, or one of many other specialties. Before you decide to become a patient, you'll want to judge whether your potential dentist's chosen niche is a good fit for your needs.
"What Dentistry Literature Do You Read, and How Often?" – Judging Expertise
This question can quickly get past any discussion of credentials and show you exactly how well informed your dentist is. Great dentists will regularly read at least one academic journal related to dentistry, preferably more. Want to make sure you're seeing the very best of the best? Ask your dentist how many academic journals they've been published in. If they've authored a paper – or simply been quoted – in a respected journal, that's very good evidence that you're dealing with an industry veteran.
"Can I See Patient Testimonials?" – Social Proof
Oftentimes, when choosing a new dentist, it helps to consult people who have been where you are now. Your dentist's previous patients are a great source of information about the dentist's expertise, technique, and bedside manner. They're also an objective source, which means you can trust what they're saying. If your dentist has great testimonials to share, that's a good indication you're dealing with a reliable professional – someone you can trust.
"What Kinds of Specialists Do You Work With?" – Your Dentist's Network
Choosing a dentist with a strong network of specialists means that you'll always have great options, no matter what dental care you may need. But it's also a great way to determine whether your dentist is reliable or not. The best dentists will partner with a number of specialists in varied disciplines. You'll also want to check these specialists' credentials, as they're a good indication of your dentist's treatment abilities. However, if your dentist performs several different kinds of procedure on his own without the help of specialists, it may be an indication that he or she is not fully cognizant of difficult situations that present themselves in dentistry. Not every dentist can master every specialty, and not every case is suitable for every dentist.
Choosing a new dentist can be a challenge, but if you know what questions to ask, you'll have no trouble quickly deducing whether the dentist you visit is the one for you. The next time you visit a new dentist for the first time, be sure to ask these four questions to gauge whether your dentist is a good fit. It'll save you time and worry later on.
Denteractive.com matches you with your ideal dentist while optimizing your overall dental experience, education and appointment needs.