Back
Why you should consider video chatting with your dentist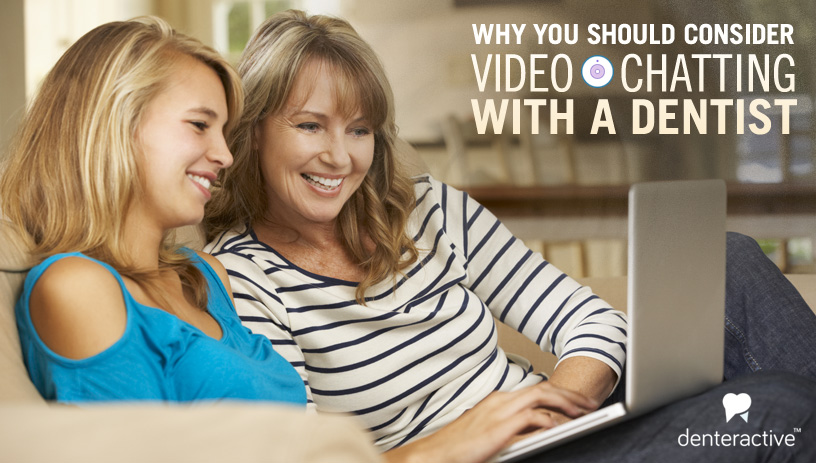 Teledentistry is a word you'll be hearing more of. It simply means using your smartphone/tablet or laptop/desktop to talk to your dentist and to also give or receive files and documents.
If you've never used the video chat feature on your phone or laptop, it's as easy as making a phone call. There are quite a few advantages to using this feature and we would like to take a few minutes and tell you why it's an idea you should consider.
Video conferencing is the fastest growing form of communication today. Over 30 billion calls are estimated to be made with it in 2015.
Video chat users are now at 380 million, which is up from 63 million in 2010.
7% of doctors use this feature in their practice and that number is steadily increasing. This isn't something new.
So, what are the benefits of video chatting with your dentist?
You can meet the prospective dentist from the privacy of your home or office. Most people take a great deal of care before deciding on a health care professional. This feature will help you make an informed decision for you and your family. This is a great tool when looking for a new dentist.

Discuss your concerns and get your questions answered before arriving for your appointment. This allows you to know your dentist better before going into the office. You'll arrive with the confidence that you picked the right dentist and practice.

You don't have to take time off work and driving time just to spend more time in the waiting room. You can schedule your own appointment and talk to your doctor face-to-face. No more lost wages and wasted time.

Video chatting is as easy to use as making a phone call. Your smartphone/laptop/tablet are already equipped with the camera. All you need is our software to connect and it's free.

Better dental care through education and prevention as you can contact your dentist whenever they are available and talk to them face-to-face.

Using high tech to make a human connection rather than talking to a machine or using email. In the world of high tech, often times the personal contact and care is lost. That is the last thing you want for your health and well being and that of your family. You'll be able to talk to your dentist as if you were in their office and receive the personal care and attention you deserve.

Having access to dental care and help if you live in a rural area and need help and information. You won't have to use Google to find the help you need. You simply call your dentist and speak to them, no matter where you are.

You can interview and talk with as many dentists as you like.

By simply looking at the calendar, you can see what dentist is available to chat. No more making several phone calls to speak directly with a dentist. If they are available, all you have to do is make the call and you'll be connected with them immediately.
Is teledentistry as private as being in their office?
This is one of the most important questions to ask. Not all webcam services are compliant and secure for the healthcare industry.
Yes, it is if it is HIPAA approved.
Denteractive is HIPAA (Health Insurance Portability and Accountability) compliant, which means it meets all the federal requirements of keeping your medical information secure and private. HIPAA has strict regulations when it comes to storing, transferring,and receiving your sensitive information. Before entering into any conversation with a health care professional, whether they be online or in their office, they must have all requirements in place. Denteractive is compliant with all federal regulations, including video conferencing.
Does my insurance cover teledentistry?
More and more insurers are covering the cost of a video conference with doctors. Check with yours or ask your dentist if your dental insurance does reimburse for it.
How to I find a dentist?
It's easy to find a dentist using Denteractive. Simply download our free iOS app on your mobile or desktop, or sign-in on our website, create a user profile with your email and password and use the search option. You can search by:
   Location/zip code and get directions
   Dental procedure
   Insurance
You can read the dentist's profile and ratings, schedule an office appointment or see when the dentist is available to talk.
Watch this short video that shows you how easy it is to use Denteractive and to find the perfect dentist near you:
Denteractive is only focused on dentistry. Our program offers you video conferencing, text messaging, online scheduling of appointments, sending and receiving documents and files. Our only focus is helping you find the perfect dentist for you and your family.