Back
Use Reliable Online Sources for Healthy Mouth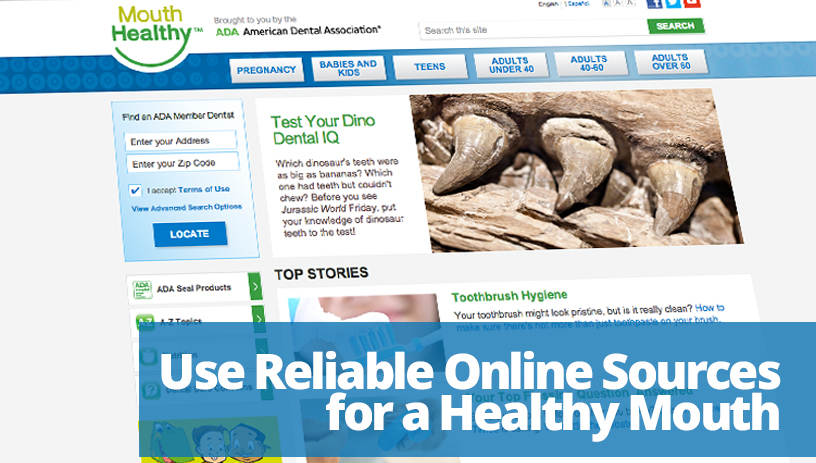 Want to live a healthy life and keep your medical bills low? One of the easiest ways is to take care of your teeth and gums. Did you know that if you don't do it right, your risk increases dramatically for premature birth, certain cancers, heart disease, dementia, and diabetes?
On the positive side, a nice smile not only boosts your self-esteem, it enhances your chances of getting hired or making that important sale. And if yours is less than perfect—with crooked, chipped, or stained teeth—it can be fixed with the latest in cosmetic and reconstructive dentistry.
One-third of American adults didn't see a dentist last year, but many of those who did, really don't fully understand how to keep their mouths healthy. You can improve your dental IQ and look at your options by checking out reliable online sources.
The best prevention against bacteria that cause gingivitis (gum inflammation), tooth decay and the unwanted rise in your overall health risks, is to properly floss, and to brush twice a day for two minutes. Unsure about the right way to accomplish these simple tasks? You can just google "brushing and flossing" or search for them on Youtube.
Rather than consult the World Wide Web to get the entire world's opinions about the right way to address your oral health issues, you can easily access online information from trusted national and state dental authorities. Go to the American Dental Association's www.MouthHealthy.org; or, the California Dental Association's www.cda.org/public-resources/patient-fact-sheets. Here you can find useful descriptions, short articles and even slideshows that can address topics like:
Pregnancy and Dental Care
Nutrition and Oral Health
Importance of replacing missing teeth to restore proper function and optimize nutrition
Braces, wisdom teeth and Dental Care in Teens
Thumb sucking, and baby bottle decay in kids
Veneers and Cosmetic Dentistry
FAQ's on Dental Trauma
Other good online sources include oral health information put forth by dental insurance companies like www.deltadental.com; or, health agencies and organizations like National institute of Health's www.nidcr.nih.gov/EducationalResources/; or,  the Centers for Disease Control's (CDC) http://www.cdc.gov/oralhealth/
The next step is to search online for good dentists near you, preferably through services like denteractive.com that specialize in oral health education and live engagements with reputable dentists in your neighborhoods. This is a step above review sites like Yelp, DrOogle, and HealthGrades, since you can not only learn about their professional background and expertise, but, you can see what your dentist is really like. Is he or she someone who is in tune with your needs? Facebook and other social media can help you get a sense of her or his personality and interests; however, by using Denteractive's live video tool, you can interact face to face and see if you feel the chemistry and that compassionate connection.
The final step is to not only make an appointment, but work out a plan with your dentist to stay healthy. Put your money where your mouth is and it will change the rest of your life.