Back
Talk to a Dentist Online In Safety and Comfort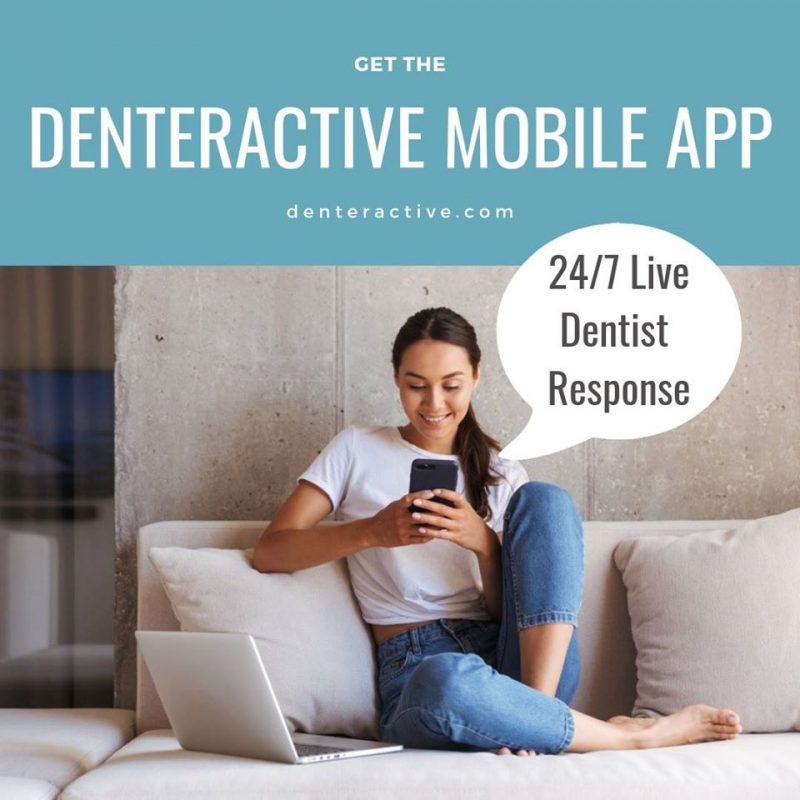 Do you want to talk to a dentist, but are concerned about what that might entail? Are you worried that something's wrong with your oral health but are more afraid of going to urgent care or an emergency room? Denteractive can help. Our teledentistry app is specifically designed to help people just like you to speak to a dental professional from practically anywhere. When we made our app, one of the reasons was to make things more convenient for patients. Now, our app makes it safer to talk to a dentist online. 
Teledentistry – Pandemic-proof 
Think of everything you would have to do to go to a dental office right now. You'd have to put on a quality mask and gloves. You'd have to figure out what you were going to do with your wallet or purse since you don't want to potentially bring the virus into your home. Then, once you're at the dentist's office, you have to maintain social distancing as well as you can, right up until the moment you sit down with the dentist, at which time, you just have to basically hope the dentist doesn't have COVID-19. If you have to do that, you have to do that, but – there are better alternatives. 
Denteractive: Always Safe 
With our app, you can eliminate all of that risk. Just open the app and talk to your dentist. That's it. You don't even have to get out of bed. Don't worry about getting the pertinent information to your dentist – our app makes that easy. As it has video conferencing as well as shared picture and video capabilities, consulting with a dentist through our app is as good as doing it in their office. This way, you don't have to worry about going to an emergency room, urgent care, or anything similar unless you really have to. 

Talk to a Dentist Online 
When we say "free," we mean it. We know that there are other places that promise you can do something for "free," only for you to find that when you take them up on it, the offer comes with quite a cost. That's not true with Denteractive. You really can talk to a dentist for free here. Moreover, we have options for those without health insurance, too. We made Denteractive to be the most inclusive teledentistry app anywhere. With our catalog of dental professionals, you can get the help you need. 
A Dentist Who's Always There 
Even if you do have health insurance, it's not easy to find a dentist to take your call and look at your teeth late at night or very early in the morning. With Denteractive, you can. See, ours is a true 24/7/365 blog. That means you can always find a dentist at any time, any day, no matter what. Getting started with Denteractive is easier than you might think, too. All you have to do is download our app at the Apple Store to get started or use the product on the web on any desktop or mobile browser https://denteractive.com/