Back
Teledentistry: What is Virtual Dental Care?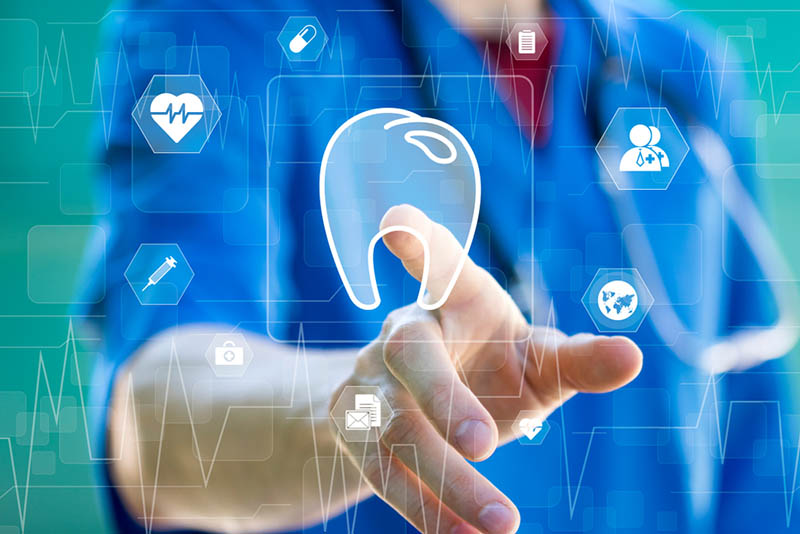 As the name suggests, teledentistry falls into the category of virtual health care. Virtual dental care is a cutting edge service in this new era of professional and innovative healthcare.
For the sake of clarity, the terms teledentistry and virtual dental care are often used interchangeably.
What is Telehealth?
Telehealth is a new form of communications technology that allows patients to receive long-distance medical support, healthcare and public health services. This service incorporates wireless and terrestrial communications with video conferencing and streaming media to provide the public with this new form of medical care.
It is important to note that telehealth is different from telemedicine. Telemedicine refers only to remote clinical services. Telehealth, on the other hand, encompasses a broader spectrum of healthcare services that even includes non-clinical services such as administration, training, and education.
What is Teledentistry?
Teledentistry is a remote service providing patients with dental health care solutions. The sole purpose of this service is to improve access to dentistry for patients living in outlying areas far from dental care or do not have access to dentistry services where they live.
Teledentistry offers a broad spectrum of solutions delivered to remote patients via video conferencing or telephone connections.
Patients can communicate with licensed dentists remotely at their convenience, gathering the required information they need before seeking out care from a local dentist in person.

What is the Difference Between Telehealth and Teledentistry?
Teledentistry is a sub-field within the greater telehealth field, just as dentistry is a sub-field of healthcare and medicine. Both services are conducted virtually online over a video conferencing facility between a registered healthcare professional and the patient.
Telehealth and teledentistry consultations both require an audio and video connection to allow the two parties to communicate in real time.
The difference between these two services is that teledentistry only includes dental consultations.
Meeting the Demand
The demand for these remote dentistry services seems to be on the rise. As many as 60% of US households with internet access have expressed interest in using these kinds of services.
This is especially true for people living in rural and outlying areas where the expense to travel to a nearby town equipped with sufficient healthcare services in the form of hospitals and urgent health care centers is quite costly.
Teledentistry is decreasing the cost and time devoted to travel as well as the hassle of finding registered and qualified professionals to meet their medical and dental needs.
Being able to consult with a professional from the comfort of your own home has become desirable. It has also opened a new realm of opportunity for both patients and health care providers, making these services much more accessible and convenient.
Those are factors that anyone would look for in a healthcare provider. This also provides an alternative to visiting the emergency room or an urgent care center. Those can be costly experiences at the end of the day.
Additionally, the demand for teledentistry facilities at urgent care centers and hospitals is also on the rise. This will ensure that patients can receive specialist treatment at an affordable cost, as opposed to being treated by an emergency room doctor.
An Upgrade on Teledentistry
While the idea of teledentistry is not a new one, it is evolving to greater heights with new technology. Teledentistry has been around since the invention of the telephone.
Now that technology is far more intricate, dentists can conduct video conferencing consultations, making them more in depth. Dentists are now able to consult and diagnose certain cases before scheduling an in-person visit the following day, week or month as necessary.
By connecting to the patient's smartphone, laptop or tablet, the dentist can consult with the patient to determine the level of intervention and care they need.
It is convenient for both parties to assess the problem ahead of time, especially if the patient needs to take antibiotics or any other treatment until the patient can book an appointment. Once the initial problem has been determined, the patient can arrange to see an appropriate dentist nearby.
Interested in Teledentistry Services?
Contact Denteractive at (888) 574-7754. Denteractive is dedicated to offering 24/7 access to emergency dental care on their teledentistry platform. Services include a variety of ways to get in touch with a professional, registered dentist either online or on mobile platforms.