Back
Learn About Dental Veneers Through An Online Dentist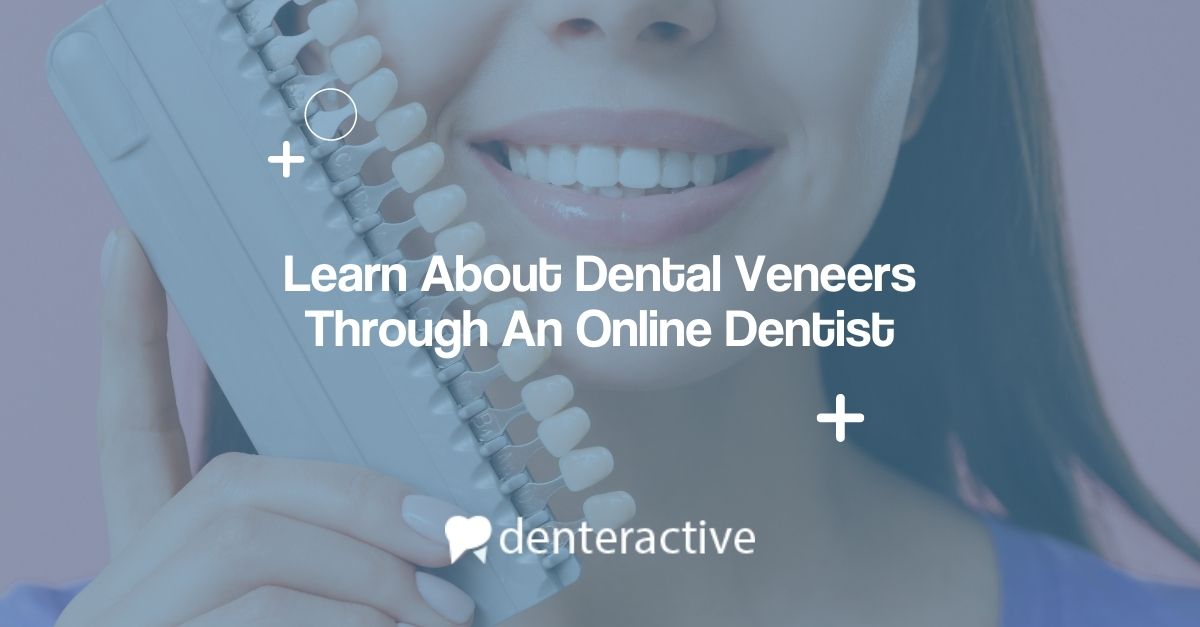 The cosmetic dentistry market is expected to continue growing and reach $32 billion by 2026. With all the enthusiasm over cosmetic dental procedures, comes more demand. If you are one of the thousands ready to enhance your smile, Denteractive makes it easy to schedule dentist appointment online for all your dental needs.
What Is Cosmetic Dentistry?
For those who are dissatisfied with the overall look of their smile, there is a solution: cosmetic dentistry procedures. Cosmetic dentistry is the type of oral care that is focused on appearance rather than just the health of the teeth. It can range from minor procedures like teeth whitening to major surgeries like full mouth reconstruction performed by orthodontists.
In recent years, there has been a higher demand for cosmetic dentistry.

Types of Cosmetic Procedures:
Teeth whitening
Dental veneers
Cosmetic tooth bonding
Gum contouring
Teeth shaping
Cosmetic dental crowns
Dental implants
Inlays and onlays
Clear aligners
What Are Dental Veneers?
You may have come across celebrity after celebrity or influencers with perfect-shaped white teeth and wondered how they can look so perfect. After some research, you probably learned that a lot of them have dental veneers. So what are dental veneers and what is all the craze?
Dental veneers are a thin shell made out of porcelain, or composite materials in tooth color, placed over a tooth/teeth's front surface. They can provide extra protection for teeth and improve the overall aesthetic for people with chipped/cracked teeth, very small teeth, or discolored teeth.
In order to have the veneers placed onto teeth, a dental professional will need to modify each tooth that will have a veneer that will require local anesthesia. The modifications include grinding down each tooth, removal of part of the tooth to its enamel, and even extraction if necessary.
After each desired tooth has been ground, the dentist will make a mold impression of your teeth and send it off to get correct-fitting porcelain veneers for your mouth. It is important to note that traditional veneers are permanent and irreversible, as well as painful.
In contrast, composite (resin) material veneers and no-prep veneers have a less invasive procedure. Composite material veneers are temporary. A dentist will apply a thin layer of the composite material onto the desired teeth then will cure the material with light. No-prep porcelain veneers can last up to 7 years and are reversible yet can cause some damage to the tooth. A dentist will apply the veneer to the enamel of the tooth without anesthesia.
How Can a Virtual Consultation Help Me?
Not every person is a candidate for cosmetic dental procedures. However, a 24/7 dental professional can help you decide which procedure works best for your teeth, desires, and lifestyle. After you and your virtual consult dentist agree on the type of procedure that will work best for you, an in-person consultation will be needed for a second opinion and to plan out the procedure.
The smile of your dreams awaits you. Download our app today or call us at 888-574-7754 to schedule a dentist appointment online.