Back
Dental Procedures, Second Opinions, and How Teledentistry Can Help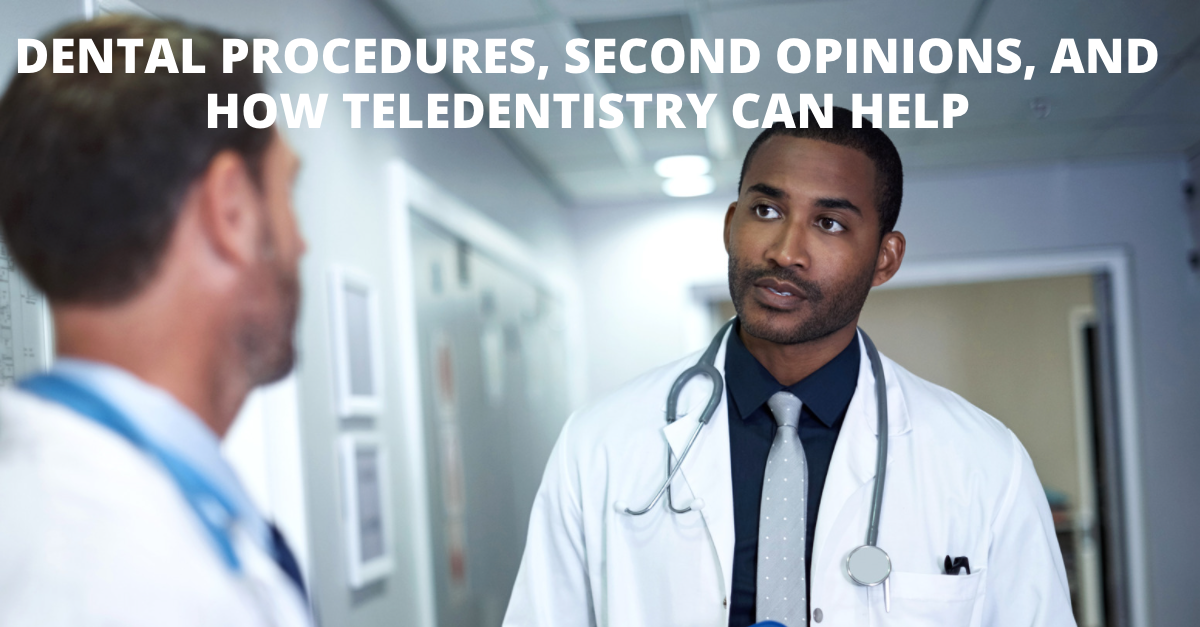 Your health, including your dental health, is of paramount importance to you–and to your family. While not every recommended dental procedure or surgery is likely to warrant a second opinion, many recommendations may not be the only treatment options for patients who are experiencing a dental issue. Increasingly, dental patients are choosing to seek out second opinions from another dentist to help them decide on the ideal course of treatment for them. In fact, most dentists are perfectly comfortable with their patients seeking out a second opinion. Your desire for a second opinion does not require an excuse or justification. It's your mouth and your teeth; you are entitled to oversee your dental health by obtaining a second opinion any time you like.
Why Do Dental Patients Seek Second Opinions?
A person may decide to seek out a second opinion for several reasons. If your dentist makes a diagnosis, especially if it is a serious diagnosis that may have life-changing impacts or require extensive dental work, it's often preferable to obtain a second opinion if nothing more than to confirm the initial diagnosis. Many patients seek out a second opinion to learn how another dental provider would treat a serious dental problem. The truth is, while one dentist might recommend a root canal, another might recommend extraction. By obtaining a second opinion, patients can gain insight into each provider's preferred course of treatment. Then, they can make a doubly informed decision about how to proceed.
Will My Second Opinion Appointment Be Covered by Dental Insurance?
Each dental insurance plan differs from another. Often, dental insurance providers do not offer coverage for second opinions. On the other hand, many plans may cover the second consultation but not the second set of tests or x-rays that a second dentist may wish to conduct. Some dentists may not be comfortable suggesting treatment options regarding tests they did not conduct.
To determine if your second opinion can be covered, contact your dental insurance provider to discuss your options. It is possible that meeting with an in-network provider may be covered, or some costs may be covered. Since many patients choose to obtain a second opinion, most dental carriers will be able to readily supply the information you need.
What Are the Benefits of Getting a Second Opinion?
The main benefit that a patient gets from meeting with a second dental provider is access to information. One dentist's opinion is limited. In cases where treatment is subjective (meaning–there are multiple options), patients may want to get more than their own dentist's recommendation to have a broader understanding of what treatments are available.
In addition to more information, patients can gain more peace of mind, especially when the second dentist offers an opinion that confirms the first provider's opinion. While they might not feel happy about the diagnosis or the treatment recommendation, they at least can feel comfortable in its correctness. That is important for patients as they move forward with a course of treatment.
Teledentistry for Second Opinions
Many patients schedule teledentistry appointments to meet virtually with dentists and Denteractive has given patients a fast and cost-effective way to receive a second opinion. Teledentistry is ideal for dental consultations. Teledentistry appointments are usually less expensive than an in-person dental appointment, so if your insurance plan will not cover second opinions or if you are paying for your dental care out of pocket, meeting with a teledentistry professional is a great option. Chat with a dentist today!
How Do Teledentistry Appointments Work?
A teledentistry appointment is much like any consultation with a medical provider–except that, you meet via a digital platform. You can meet with the dentist from your home or office–wherever you prefer. When you schedule your teledentistry appointment, you will be connected with a licensed dentist via message (FREE) or video for a charge. When video conferencing a dentist, we use your device's camera so that you can meet 'face to face' with the dentist.
During your appointment, your dentist may have enough information to make a second opinion. On the other hand, they may recommend the need for a physical exam. You will have the opportunity to discuss your situation with the dentist and ask questions. Based on what you learn, you may decide to follow your original dentist's advice or further consult with the second dentist.
If you want to get a second opinion from a certified dentist, consider making a teledentistry appointment with Denteractive. Typically, getting a second opinion via Denteractive is quicker than waiting for a scheduled in-person dental appointment. Also, many patients find it more comfortable to remain at home while consulting with a dental provider.
LIMITED OFFER: Denteractive is offering 24/7 Messaging with a live, licensed dentist for Free! Start your free messaging here: https://denteractive.com/user/public/emergency?emergency=emergency