Back
How to setup video call appointments for your dental practice with Denteractive™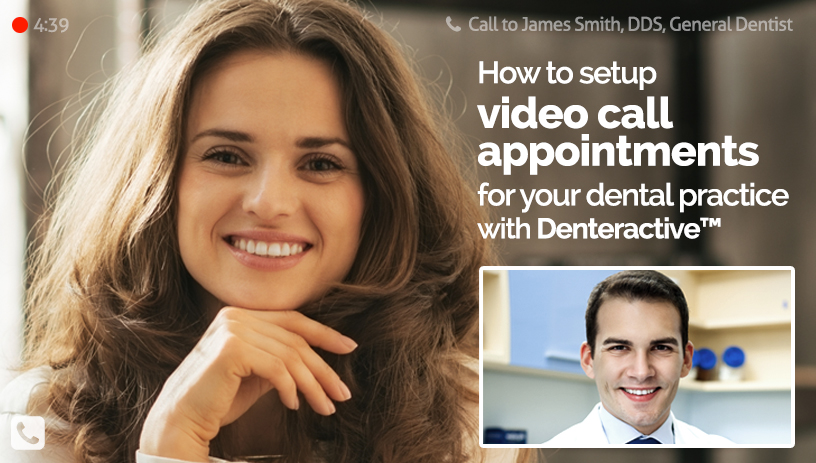 Using Denteractive to video call with your patients and set appointments is fast and easy to use. This short video below will show you how to get up and running in no time.
First access the login screen by clicking on the login tab located in the top right hand corner of the home screen.  You'll see the drop down menu with three options. Click on the "Dentist" and it will take you directly to your login screen.
Simply enter your username and password. Remember, these are case sensitive. You are now at the main dashboard. You'll see the welcome message at the top and your "upcoming activities", which are a real-time list of your incoming messages and videos.
Video Call Appointment Dashboard
This makes it easy and efficient for you to see your weekly calendar so you can manage your time as best as possible. Having quick access to all your appointments and messages has never been easier. You don't have to dig through several pages to access the information. It's right there immediately after logging in.
When online, it's best to change your status to "online" by clicking the switch at the bottom of the screen. Although patients can send you inbox messages at anytime, this feature allows patients to know when they can reach you in real time to request a video call or get immediate assistance through the text messaging.
Video Call Scheduling
To enable your video call settings, simply click on the availability tab to access the calendar. You can easily scroll to any date and time that you choose to be available for video call. The times are broken down into 10-minute slots. Actual video sessions are 5 minutes in duration so there is a small leeway. You can see how smooth and easy it is to add, change, or delete any of the slots as your schedule changes. Can't make it at one time that day? Not a problem. Just click and change it for another time immediately.
Set Online Availability
Your video call availability is completely at your convenience and when you choose to make yourself available. Patients can make a video call appointment with you at these times. Once they do, you will get a confirmation email and reminder. The program confirms the time slot automatically, so you no longer have to confirm further. It's all done.
If your video call availability session remains unfilled, your profile will show "Available now" at that designated time on patient searches. Any patient can start a video call with you at that open time session, and you are accessible to any emergency patient through the emergency button. This is a wonderful way to keep your schedule full, your production high, and your service to patients continuous. You have complete control over when you want to be available and when you don't.
Accept Video Call Appointments
Appointed video call sessions are stored under "appointments" in video. Patients will initiate calls on the designated times. On the day and time of the appointment, you'll receive a "Denterative incoming call" notice on your computer or mobile device. All you have to do is accept the call. It's that simple.
You can also come to the "appointments" tab under "video" where you can connect to incoming calls in case of a failed session.  There is a countdown timer on your screen during a five-minute session, so it's easy to track how long the call is going.
Survey After Call
You or the patient can choose to finish the conversation early by hanging up. At the end of each completed session, there is a questionnaire that appears to both patients and dentists regarding the office appointment arrangement. By completing this, you now have a complete record for tracking purposes. There's nothing left for you to do. It's all been taken care of.
Denteractive Dentist Mobile App
You can perform all the functions above easily on your iOS mobile devices through the Denteractive Dentist mobile app. Simply download the app through our secure link and start using the power of Denteractive to engage and wow your existing patients or new prospects!
Enjoy the simplicity of the program :
Access the "Dentist" option.
Login with your username and password.
Change your status to "Available" – recommended.
Review upcoming activities/messages.
Retrieve and respond to messages
Make/receive calls.
Easily modify your calendar.
Once done, complete the questionnaire.
Log off and you're done!
HIPAA Compliance
Denteractive is HIPAA compliant so you can safely and easily message and video call with your patients. You don't have to worry about whether or not their sensitive information is secure. It allows you to concentrate on what you do best – taking care of your patients at your highest level of care and expertise.