Back
How to Find the Right Dentist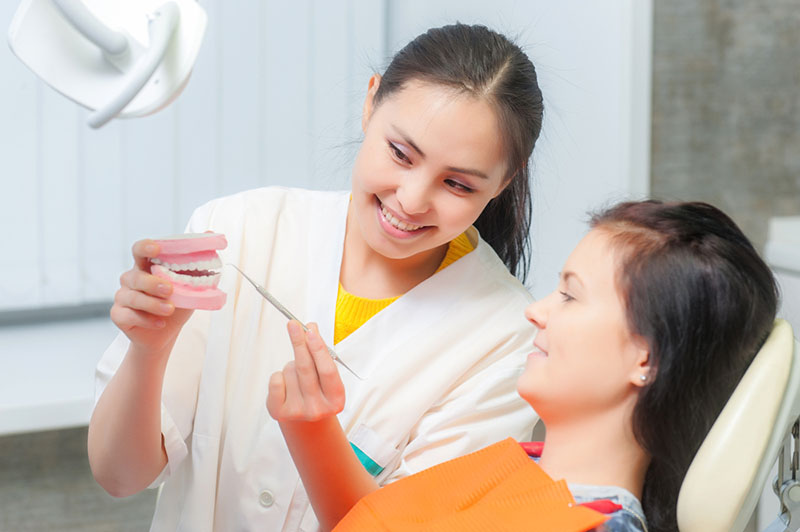 Finding the right dentist isn't always as easy as opening the phone book or check up on Google Reviews. You want to find a competent practitioner that will be there for you for, hopefully, years to come. Your oral health is important to find a dentist that works well with you and has your oral health in mind is of the top importance. When you are looking for the right dentist you'll want to check with your local family and friends for recommendations on who they use and how they have found the service there. You can also go the route of asking your family doctor who they would suggest. With years in practice and being community-based, they should have some good suggestions to get you settled into a new dentist in no time.
If you happen to be moving away from your current dentist they could be able to provide you with a few options depending on where you are going. When you have a list narrowed down you can then focus on specific questions regarding each dentist. One important question to consider is whether the dentist on your list submits claims to the insurance that you have. You can cover this question by calling the dentist office and asking if the submit claims to all insurances. This will be necessary if the dentist that's been suggested by a friend or family member is outside of your provider network.

You can also ask in that same vein whether the dentist office you are considering has payment plans for the noninsured. Some office only does procedures with payment in full because they don't want to be on the hook waiting for payments. However, there are offices that offer procedures with payment plan options by using credit likes like Credit Care. You can also ask if the dentist office you are interested in is a part of te American Dental Association. This means that they have to abide by the ADA Code. Abiding by that code is a condition of their inclusion in the ADA. The code includes important factors like professional conduct, ethics, and advisory opinions.
When you are searching for a new dental office you will also want to find out where they are located in reference to you. You will need to understand how far away they are from your home, your work office or your child's school. This can be very helpful when you plan to make appointments and wish to relate it to the time you may spend in traffic to and from the appointments. You will want to also keep track of their hours. If you are planning to make appointments they should alight to the hours you have available. You want to be able to schedule regular appointments to keep your gum and oral health in good shape so finding an office that has good hours and is located close can be very helpful.
When you are taking the time to call around to different offices you should ask about any new patient or loyalty programs they have for clients. Some offices will offer free x-ray and oral exams to their new patients as well as teeth whitening bonuses or discounts. It's always good to know what your options on when searching for a new dentist. Having incentives that get you in the door like free x-rays and teeth whitening can be just the push you need to settle on a new provider. However, don't be dazzled or swindled by free offers. You will still want to ensure that the dentist you choose is worth their salt and that you don't schedule just for a discounted teeth whitening session.
If you are worried about having to go under the knife for any type of procedure you can also as the offices what kind of anesthetic they use. They can walk you through the different kinds that they use or the different levels with which they can sedate you. Some offices can offer slight sedation just for routine teeth cleaning. This is great for people that have anxiety issues about going to the dentist. Slight sedation will relax you enough that you won't be bothered by the dentist going about their regular work ensuring your oral health. When asking about the type of sedation they use you can also inquire about any ongoing credentials or education that is being received by the dentists at the practice. It's always good when a dentist is open to a continued education throughout their career. No matter how great a surgeon or doctor is, it can't be denied that there is always more to learn in the medical field.One final thing that may be worth asking is what the office does when you have an emergency. Some office doesn't take emergency situations and will reference you along to a provider on their list. If you chosen office doesn't provide emergency care you can take the time to research the ones that they suggest and find one that will fit best with you if you ever need it.