Back
How General Dentists Should Protect Themselves from Professional Liability Claims Pertaining to Periodontics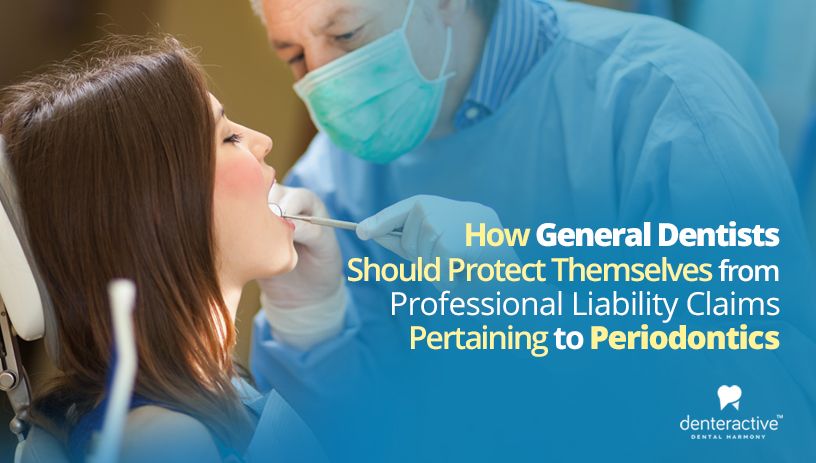 By Mahnaz Zandi, D.D.S., M.S., Board Certified Periodontist, Diplomat of the American Academy of Periodontology Practice in Century City, Calif., member of the Denteractive network
Professional liability claims pertaining to periodontics are rising. These claims most commonly allege failure to diagnose, failure to inform, failure to refer, or failure to treat. Adverse events during treatment and the failure of either surgical or non-surgical therapy produce few claims. The majority of periodontal claims are alleged against general dentists.
Claims based on periodontal disease frequently have a number of characteristics in common: The first is that the claimant has already left the practice or been seen by a subsequent treating dentist. It is often the diagnosis of periodontal disease by a new dentist that leads the patient to conclude that the diagnosis should also have been made by the former dentist.  The second is that the alleged act or omission did not occur recently. Most perio claims involve an alleged delay in diagnosis or treatment that led to the claimed injuries. Although the patient may have had a recent recall exam, allegedly at which no diagnosis was made, the claim will typically focus on an exam performed years earlier as the beginning of the dentist's culpability.
Failure to diagnose
The expectation of every patient is that the dentist will thoroughly examine both the hard and soft tissues of the mouth, formulate a diagnosis, inform the patient of your clinical findings, and recommend appropriate treatment. The American Academy of Periodontology's position paper "Diagnosis of Periodontal Diseases" (Journal of Periodontology, August 2003) lists a number of clinical factors that must be assessed for the dentist to arrive at a periodontal diagnosis. They include:
• Presence or absence of inflammation (usually exhibited by bleeding upon probing)
• Probing depths
• Extent and pattern of loss of periodontal attachment and bone
• Medical and dental history
• Other signs and symptoms, such as distribution of plaque and calculus, pain, mobility
Additional contributing factors are the patient's age, the presence or absence of purulence upon probing, proximal tooth contact relationships, presence or absence of malocclusion, and condition of dental restorations and prosthetic appliances.
Today's standard of care for oral examinations includes complete diagnosis and documentation of the periodontal status. This includes recall as well as initial examinations. Be certain what you say to the patient is truthful and informative. Don't avoid the issue of periodontal disease or periodontal deterioration in order to prevent upsetting the patient. It is also important that you let the patient make his or her own treatment decision. Once you diagnose the need for periodontal treatment or referral, explain the reasons and treatment plan to the patient and let the patient decide yes or no, even if you think you know the answer.
Patients will have a variety of understandings and expectations regarding their diagnosis and treatment. The patient desiring anterior veneers likely doesn't have periodontal treatment high on her wish list, if at all. Consequently, it is important that patients be asked what they want as an end result and what they expect to occur during the course of treatment. This is your chance to manage their expectations by informing them what to realistically expect during treatment and postoperatively and how their periodontal diagnosis affects their chance of being able to achieve the desired treatment goals.
Failure to Refer 
Each dentist has a duty to provide appropriate care to patients of record. This responsibility includes the timely referral of a patient whom you believe requires care that is beyond your training, experience or expertise to a dentist who can appropriately treat the patient. Concerning periodontal disease, the referral dentist would most likely be a periodontist.
Your referral discussion with the patient should be documented thoroughly, emphasizing your message to the patient as well as the patient's response and understanding of his or her condition. Patients may also wish to hear what you believe the referral periodontist will do.
There is no absolute rule that demands referrals to specialists. If you feel competent treating periodontal disease in your practice, there is no law or ethical standard that prohibits you from doing so. However, in a lawsuit alleging that your care breached the standard; expect your care to be held to the standards of the appropriate specialist that customarily provides similar care (in this instance, a periodontist). The expert who will testify in court on behalf of the plaintiff will probably be a periodontist, subject to applicable expert witness requirements of the venue in which the case is tried. Therefore, it is a good practice to only treat those cases within your clinical expertise.
The timing of the referral is often of great importance in a lawsuit. Was the patient referred immediately when it was felt the patient's needs exceeded the dentist's professional skills, or was there procrastination, allegedly allowing the patient's condition to further deteriorate?
If your patient refuses to follow through on your referral, you are left with the choice of either dismissing the patient from your practice or continuing to treat, notwithstanding the fact that you have already determined the extent of your care does not fully meet their treatment needs. The former decision requires thorough documentation to defend a potential abandonment claim. The latter requires thorough documentation that you did your best to persuade the patient to follow through with the referral, and that the patient refused. An informed refusal form, signed by you, a witnessing staff member, and the patient is recommended in such cases. Be certain to document that the patient has been informed of the potential consequences of their refusal. Additional attempts to persuade the patient to reconsider his or her refusal should also be documented in the patient's chart at each subsequent visit.
Recognizing Risk Factors 
• Patients who are noncompliant with home care, treatment recommendations, or referrals
• Patients with whom you have encountered prior treatment difficulties
• Patients who present other patient management difficulties, such as failure to follow medical advice, failure to keep follow-up appointments, etc.
• Patients with unusual periodontal topography
• Refractory cases
• Patients with significant esthetic concerns and expectations
Controlling the Risks
Controlling the risks of periodontal diagnosis and treatment requires a multifaceted approach that includes clinical skill and attention, good communication, and thorough record keeping.
Among the most effective steps you can take to control your risk is to perform comprehensive initial and recall periodontal examinations on each patient and to document your findings. A critical aspect of the evaluative process is obtaining appropriate diagnostic radiographs. (The American Academy of Periodontology has stated the position that a panoramic and bitewing survey is not diagnostic for periodontal disease.)  Noncompliant patients and those with a deteriorating periodontal condition require especially thorough documentation.
Patients that have had active periodontal treatment should be required to return for postoperative evaluation and maintenance. Recall patients sometimes fall through the cracks of a busy practice, so be certain to recall patients for periodontal maintenance therapy in a timely and efficient manner. Failure to recall is another, less common theory of liability. Periodontal maintenance visits should reassess the patient's periodontal status and be well-documented, including an explanation of the patient's level of continuing compliance with home care instructions. Objective clinical findings, such as "decreased pocket depth measurements," make better entries than vague notations such as "OK" or "improving." The best protocol is patient alternate for periodontal maintenance  between referring general dentist and treating periodontist,
Develop a specific protocol for dealing with those patients, who refuse to follow your recall or periodontal maintenance schedule.
Dentists and hygienists can reduce their risk by practicing good risk management techniques that include thorough clinical examinations, clear treatment plan discussions, and detailed documentation. Remaining current in periodontal disease diagnostic techniques and treatment modalities will enhance patient care and contribute to a stronger defense against a charge of malpractice.
Find more information about your oral health and for you ideal Periodontist by downloading the Denteractive app and registering for free.