Back
How Do I Find Dental Patients? (Did You Try Teledentistry?)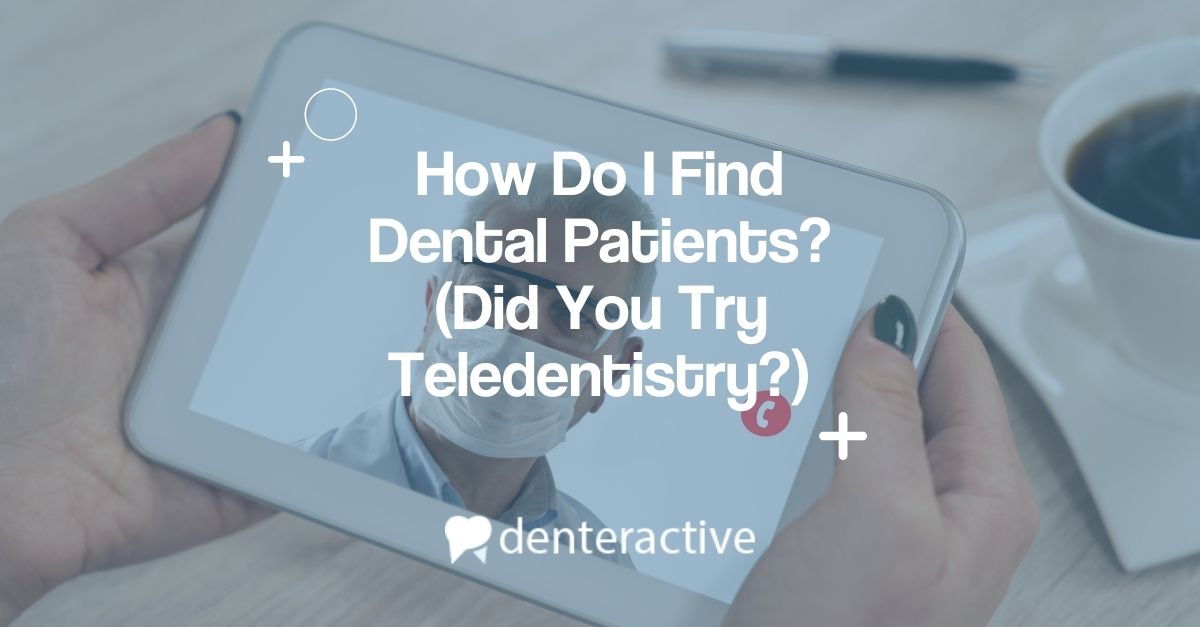 Finding dental patients these days has become tougher because of stiff competition. But have you tried teledentistry? If you haven't, then you're missing out on a lot of things. Teledentistry has become the most convenient way for dentists to find dental patients. In fact, in this survey, adults have used this technology since the start of the pandemic. 
Why Choose Teledentistry Over Regular Digital Marketing?
To integrate teledentistry into your practice, you need to have your website. But you still have to advertise your website to increase visibility. There are many ways to do it to find new patients.

Efficient Marketing Tools
You can use SEO. But SEO results can take time. But if you use Denteractive's teledentistry software, you can use its marketing tools that can quickly boost your visibility and find new patients in a short period. Your visitors can message you, giving you a better opportunity to convert them into patients.
Easy to Find Your Practice Online
Our Denteractive Teledentistry software can boost your online presence by generating positive online reviews. And we all know that online reviews are ideal for boosting your search rankings. In that way, more people can find their way to your business.
When people are finding your dental practice through online reviews, you can harness that momentum. Engage them by leaving comments on those reviews. Then, you can maintain the momentum by checking in with your customers.
With the automated review and reputation management tools of Denteractive, you can attract more patients to your site to help grow your dental practice. The software can automate review requests to easily enhance your online reputation.
Use Virtual Triage Tools
When you integrate Denteractive to your website, you can easily convert visitors into real patients via the virtual triage tools. These tools can help you customize virtual care. They are HIPAA compliant and can accept online appointments and virtual visit bookings.
Provide Patients with Better Dental Care
Teledentistry isn't only used to find new patients but it can also be utilized to provide them with better care. With this technology, patients can start sessions through a virtual triage tool. They can also schedule their appointments. What's more, is that patients can make suitable appointments or they can chat with you from the comfort of their homes. Furthermore, they can track their dental visits if they wish to see the last time they had dental treatment.
Remove Obstacles to Treatment
Busy schedules are typically the most common reasons people neglect their dental visits. Others don't like traveling to a dental office or taking their time off. But with teledentistry, you can remove these challenges. The software has flexible online scheduling that lets patients have regular dental care, thereby, avoiding serious dental problems.
Need a Live Demo?
Denteractive has become the leader in teledentistry. It offers a great platform for dentists and dental providers. If you wish to know how teledentistry works, you may schedule a live demo with us. Please call us at (888) 574-7754.