Back
For Fast Dental Advice, Talk to a Dentist Online Today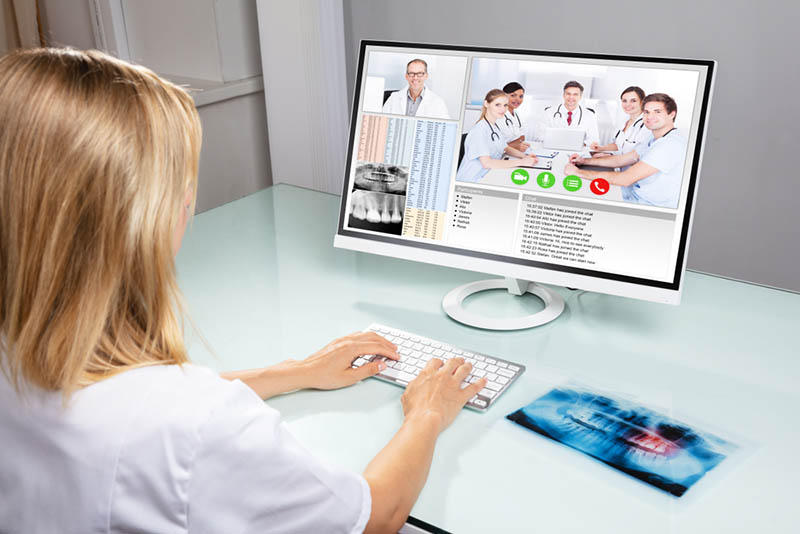 The modern world has made astonishing leaps forward in our ability to communicate with people around the world. The time has come for the medical world to embrace that, and use it as a means to reach out to patients even without an appointment. Denteractive believes that the time has come for teledentistry, allowing patients to talk to a dentist online today without having to see that person face to face. You don't even have to be a patient of ours: all that is necessary is that you download our app and give us a few pieces of information. If you have used the chat options on your phone before, then you should find it really easy to call a dentist and have an online consultation.
Let your fingers talk
Sometimes, when you need dental treatment, your face can swell up. This could make it too painful to talk. This is another good reason to make an online conversation with a dentist a priority. We can help you and you don't have to say anything. Just text and send us a few pictures of your teeth, and we can get right on it. With billions of people all over the world using online chat forums to talk about their day, the weather, or major events, now is the time to start using it to improve your health. So far, only a few medical professionals make use of this tool, but we believe that it will soon be bigger than ever. You can call us right now to discover how we can help you.

Meet dentists right now
When you use an online app to get what you want, you don't have to wait any longer to speak to someone immediately. You can talk to our dentists online at any time of day or night, or even in your lunch hour. That means that you can essentially schedule your appointment when the time is right for you and still talk directly to a doctor. Video chatting is simple and as long as you have a tablet or smartphone that is connected to the internet and has a camera, you can do every part of our consultation in your own living room. We can show you ways to take better care of yourself, and you can learn how to spot the signs of problems with your oral health.
Call us right now
If you have any concerns about your dental health, then the time is perfect to make a call and talk to a dentist online using our special app at Denteractive, you can find out more about your dental needs, even down to how to improve your smile. Just come to talk to us now and we can help you to get more information on whatever you need. Our dental specialists are here waiting to talk to you now, so what you need to do is download our Denteractive App from the Apple store or go to Denteractive.com on any mobile phone or device!