Back
Developments Make It Valuable for Orthodontists, GPs and Pediatric dentists to Cooperate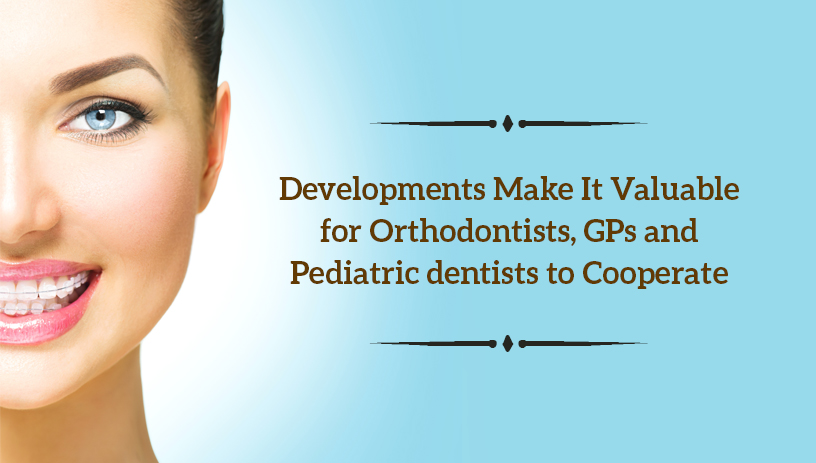 The American Association of Orthodontists reported that the number of patients being treated by its 17,000 members increased by 20% between 2010 and 2012 to 5.9 million, a record 21% of them were adults! That's only the tip of the Orthodontic iceberg! A third of Americans don't see any dentists annually; and American Association of Orthodontists estimates that 70-80% of all adolescents have some form of malocclusion or orthodontic needs, and a large number go without proper care. We can clearly see growth in Orthodontic needs, thanks to smart innovations and good collaboration between general dentists, Pediatric dentists and Orthodontists.
It is crucial to realize the importance of proper guidance, education and collaboration in this field. GPs often lack the thorough exposure to Orthodontia in dental schools, and that can be detrimental to the profession as a whole. In the recent years, there has been a push by some dental companies to educate GPs to treat uncomplicated cases using newer, but, unconventional treatment methods. A large number orthodontic treatments are now being provided by general dentists with the help of clear aligners like Invisalign and Clear Correct, yet there's some resistance to this trend by Orthodontists. Some orthodontic graduate programs don't even teach these techniques because they are viewed as not customizable enough for optimum outcomes. However, with time and increasing demand, more and more Orthodontists are warming up to the values they could bring in certain situations. It is important for Orthodontists to optimize the mixed messages in the dental arena for better overall care for patients!
Pediatric dentists also have a big role in the overall Orthodontics care of the population. Often times, they are the first dentists to find potential dental and skeletal disharmony or deficiencies which require attention through interceptive appliances or Phase I Orthodontic care. Quad helix and other arch expansion appliances, space maintainers, and techniques in mixed dentition stage to prevent and facilitate future orthodontic needs, are essential to better overall patient care.
It is important for GPs and Pedodontists to realize the limits of their orthodontic patient care through better diagnosis and treatment planning. Sometimes it's not easy to determine whether aligners will be adequate, or if more effective conventional treatment is warranted. Many times it is best to refer to an Orthodontist to get an initial assessment. Co-managing complex cases can avoid the liability of patients who are unhappy with the outcome.
"I'm probably more in favor of general dentists doing orthodontics than most Orthodontists," said Denteractive member Dr. Bradley Baum, who works with his brother, Dr. Gary Baum, and Dr. Tony Fernandes in their Westwood and Westchester offices. "However, the three years we spend in an orthodontic program does give us an understanding of the best solutions for difficult cases. If you talk with any orthodontist, they'll tell you they'd much rather work with a general dentist at the beginning of treatment planning to assess the challenges, than to be called in midway into treatment."
A number of technological developments reported by Dr. John Graham in DentistryIQ have added value to what orthodontists can bring to the relationships with GPs and other specialists:
Cone Beam CT scanners provide 3-D images that have revolutionized treatment planning. The much-discussed radiation risk is actually just the equivalent of two panoramic x-rays.
Insignia's software converts a set of impressions into a 3-D version that can be modeled to achieve the ideal smile, which can be shown to the patient. The customized brackets are placed with indirect bonding and are more comfortable than conventional braces.
Passive, self-ligating braces reduce friction and pressure so that the patient is more comfortable, while treatment time is speeded up.
For those who prefer to work with aligners, the Damon Clear system is more resistant to discoloring.
Titanium mini-screws can assist in movements or prevent unwanted movement of teeth; and are removed when treatment is completed.
Clearly, the dental profession benefits overall when generalists and specialists work together to show how 21st century dentistry can improve the lives of patients.
Dentists and patients can search for Orthodontists and every type of dentist at Denteractive.com and use advanced video and texting tools to ask and answer questions and schedule appointments.