Back
Teledentistry: A Great Opportunity for Second Opinions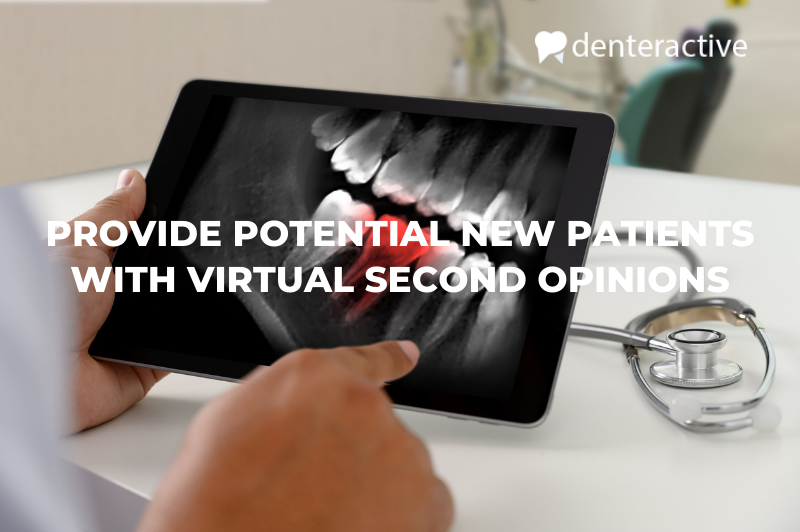 Second opinions are a matter, of course, in the medical community, and that includes the dental community as well. Second opinions not only help catch medical errors, but they can provide patients with alternate perspectives and uncover different treatment options. In most cases, they offer patients a greater understanding of their condition and how it might be managed.
Unfortunately, not everyone takes the time to seek out a second opinion. Patients must find a willing provider and schedule an appointment for the second opinion, and that can take a long time. Plus, many providers don't want to provide a second opinion based on another provider's tests, preferring to make their own diagnostic findings and patients' patience and funding, is a hindrance.
In the dental field, teledentistry is helping to make obtaining a second opinion from another dentist a more feasible option, with results possible the same day, with Denteractive at the forefront. Patients can consult your expertise from the comfort of their home. They can meet with your dental practice to discuss their questions and to obtain an unbiased expert opinion about their condition and how best to treat it.
Is This Your First Time Learning About Teledentistry?
Teledentistry is a virtual appointment. The preferred method is a dentist-to-patient video call, with messaging and picture exchanges an alternative option. We know with teledentistry you cannot have the patients' teeth cleaned or a cavity filled; however, you can discuss their dental issues with live video, receive images of their mouth/teeth/gums, discuss post-procedure issues, and more. Teledentistry offers patients the chance to meet with you without having to sit in a crowded waiting room or take time away from work for an in-person appointment. A teledentistry appointment can suffice–conveniently suffice–for many patients and their dental needs. Learn more about how the Denteractive teledentistry platform can help your dental practice.
Teledentistry for Second Opinions
When it comes to oral healthcare treatment, teledentistry provides patients with more options. That, of course, is the idea that drives patients to obtain second opinions. You may be able to offer an alternative dental path, quickly diagnosing with a video call. What's best for the patient, however? Without the personal expertise, it's tough for patients to decide, but with a second opinion, they at least have options–or, they have confirmation.
Access Patients from Non-Local Areas
Many people live near small cities and towns or in quite rural locations. This means that they may live near a limited number of dentists or dental specialists. Geography puts up barriers against obtaining second opinions outside of that small, limited area. Teledentistry gives patients broader access to dentists. Do you provide experimental procedures? If a patient is willing to travel, they can save time and expense with the first appointment via teledentistry. Your second opinion can help solve an issue that a local provider never could.
Patients may choose to never meet with you face to face, but the virtual consultation affords them with additional education and perspectives on their dental problem. If you have a specialized expertise, you can meet with patients not physically close to your office. Or, even if a long-term patient moves, they can still work with your practice.
Patients Save Money on Travel
Teledentistry tends to be an excellent money-saving option for patients. Generally, teledentistry involves less expense than in-person dental appointments. When you don't have to travel out of town to a dental appointment, you can save money on your travel costs. In fact, you don't even have to buy gas for your vehicle. Both you and your patient can be at home and provide service to your patients that they will greatly appreciate.
Get a Second Opinion and Weigh Your Options
By giving a second opinion quickly thanks to teledentistry, patients can take some time to consider their options. A second opinion can round out understanding of a dental condition and the procedures available to them. Second opinions, in themselves, are an important option for patients. If they've been diagnosed with a rare condition or are continuing to experience symptoms even after treatment from another dentist, teledentistry is the perfect alternate option.
Consider offering teledentistry second opinions. You may be able to secure new patients to build out your dental practice. The teledentistry process is secure and convenient. Your patients will love it!
Now is the time to add teledentistry as an option for your patients. See our pricing options and get started without a credit card!