Back
How Using e-Prescriptions with Denteractive Partner eazyScripts Can Help Both Dentists and Patients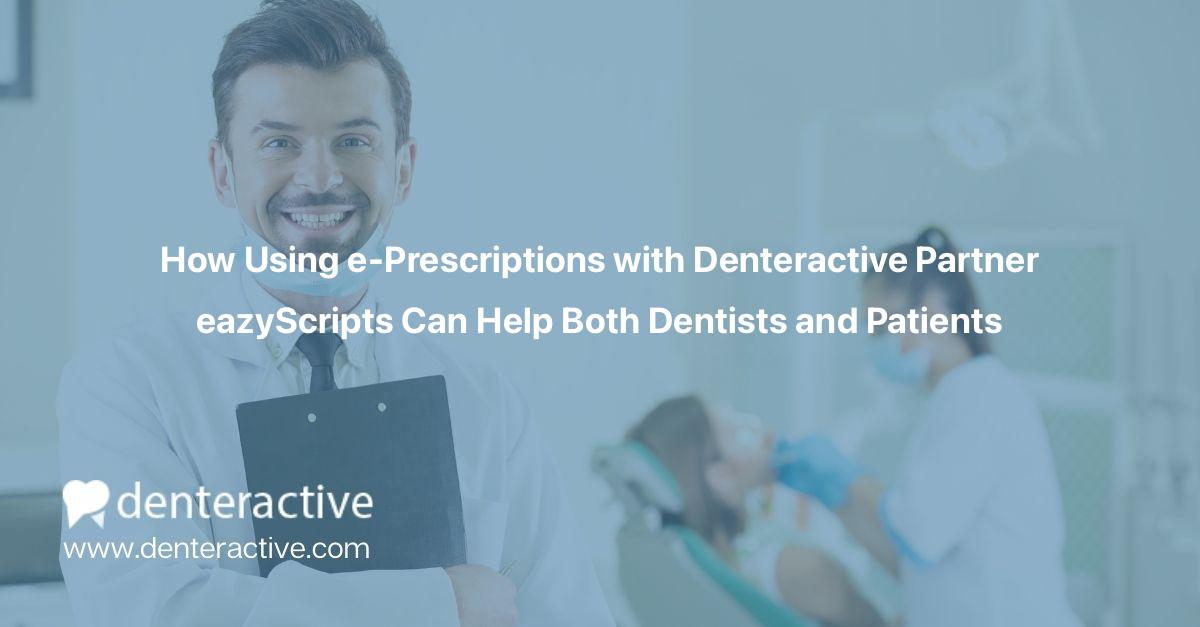 Electronic prescriptions, or e-prescriptions, have increased in popularity among dentists for several years. For many dentists, the convenience and accuracy associated with e-prescribing has made it a necessity for both their practices and their patients, especially with our trusted eazyScripts partner. Why? In the wake of COVID, improved teledentistry and other practices have helped to streamline healthcare with new best practices that offer advantages for providers and their patients. Dental practices are adding e-prescribing software that allows them to quickly submit patients' prescriptions from eazyScripts portal to patients' pharmacies of choice. If you are not already submitting e-prescriptions, here are some reasons why you should trust Denteractive and eazyScripts.
e-Prescriptions Overview
Unlike conventional paper prescriptions, e-prescriptions are electronic prescriptions that dentists and doctors send to patients' pharmacies via our preferred partner, eazyScripts, via HIPAA compliant cloud-based electronic software. All e-prescription submissions are cloud-based, secure, and, importantly, HIPAA compliant. In fact, the medical and legislative communities favor e-prescriptions because of the advantages they offer, especially in the fight to reduce prescription drug addiction.
How Do Dentists Submit e-Prescriptions?
When a dental patient requires a prescription, instead of the dentist using a prescription pad to write out a medication order on a prescription paper to be given to the patient, he or she will enter the prescription into the eazyScripts platform and transmit it to any pharmacy that the patient chooses. The pharmacy instantly receives the order, which clearly shows all pertinent information about the patient (i.e., patient's name, date of birth, prescribing doctor, insurance, etc.) and the medication(s) being prescribed along with dosing and refill information. The pharmacy staff can get to work filling the prescription right away.
What Dentists Should Know about e-Prescribing
Dentists who decide to embrace the e-prescription future can adopt eazyScripts and typically can start onboarding the very same day. As mentioned, these systems are HIPAA compliant, so they are safe and secure portals for transmitting sensitive health information. eazyScripts is compatible with all electronic medical records, which affords practices a wealth of relevant patient information. Submitting e-prescriptions is easy and the dental practice can receive live training by eazyScripts to ease the transition to a new technology.
We've Heard From Our Dentists
The Denteractive platform and the eazyScripts e-prescription platform are separate from each other. Our partnership with eazyScripts gives you a standalone 12-month e-prescription platform with a separate login, valued at $350 per year as part of your FREE account. You get both the Denteractive platform and the eazyScript's platform for one low monthly fee. Why pay for eazyScripts separately, when you can have an e-prescription platform included with our Denteractive suite?
How Does e-Prescribing Benefit Patients?
Dentists are choosing to e-prescribe medications for their patients because of the benefits it offers them. eazyScripts is loaded with medication information, including pricing options. Prescribers can see which medications are covered by the patient's insurance plan and can choose to prescribe one that is covered, assuming it is a good treatment option. Other benefits that e-prescribing offers dental patients include:
Safety
Patients overwhelmingly benefit from the enhanced safety that e-prescription databases offer. Busy pharmacists no longer must decipher quickly scrawled prescriptions to fill medication requests. The dentist submits the e-prescription digitally via eazyScripts, which makes the process a more accurate one. Pharmacists and their technicians can easily read the orders, the medication and dosing, which reduces medication errors.
Another safety benefit of these systems is that there is an instant alert when a doctor or dentist prescribes a medication that the patient is allergic to. The pharmacist will see this same alert on their end. The software ensures that patients are not delivered duplicate therapies or drugs that should not be administered to women who are pregnant or patients who have certain health conditions, for example.
Better Patient Outcomes
The e-prescribing process is convenient for patients, dentists, and pharmacies because it streamlines the prescription process. Patients do not have to deliver their prescription to the pharmacy and wait for their medications to be filled or must return the next day because the pharmacy is too busy to fill it when they first visit. Instead, medications are often filled by the time the patients reach their preferred pharmacy upon leaving their dental provider's office. Fast access to medication is in patients' best interest.
Lower 30-Day Readmissions
Studies have found that when pharmacists are involved in transitions of care, readmission rates go down. The e-prescription process invites pharmacists to play a more integral role in each patient's care. How is that? Pharmacists have access to patients' medical information, including a history or recent history, at least, of the medications they have taken or currently are taking. Frequently, it is the pharmacist who catches a medication error because, after all, this is their field of expertise. Pharmacists will typically check to ensure that patients are not taking medications that are known to negatively interact with one another.
How Does e-Prescribing Benefit Your Dental Practice?
When dentist's sign up for e-prescription service, they are also in store for many benefits for their own practices. Digital prescriptions offer many more advantages for dental offices and their staff members than paper prescriptions. Some of these benefits include:
Better Clinical Decisions at Point-of-Care
The old way of prescribing medications to patients was clunky. When prescribing, providers had to dig into patient records, ensure that patients were not allergic to prescribing medications, find out what else they've been prescribed or are currently taking, and keep that all in mind when considering a current medication to prescribe. Then, they wrote out the prescription–messily, of course. A day later, the patient's pharmacy calls because the pharmacist cannot read the dose. The dentist is busy with a patient and will have to call later. The nurse or office staff must remind the dentist to address the question. Then they must call the pharmacy back. Sound familiar?
The practice of e-prescribing allows doctors to make better treatment decisions regarding medication because they have immediate and accurate access to the patient's electronic records, including a medication history and any associated alerts, and the prescription is transmitted to the pharmacy without delays or chance of transcription errors.
Faster Prescription Filling
When dentists prescribe their patients medications, they want their patients to start taking them right away. The e-prescribing process allows patients to get their medications more quickly. If the patient is in pain because of a dental infection, taking that medication as quickly as possible is important to achieving a good medical outcome.
Also, on the pharmacist's side of the process, their teams can quickly fill prescriptions because they are not put in a position of having to call to verify dentists' orders. They do not have to worry about deciphering a poorly written prescription because they can see the clear order on their screen. Their busy staff members can spend more time filling prescriptions rather than waiting on hold for busy doctors and nurses to provide them with the accurate information they need to fill prescriptions.
Prescription Tracking and Reporting
Finally, the dental community can combat prescription drug abuse because e-prescription platforms offer tracking of medications, especially narcotics. Dentists, doctors, and pharmacists alike can see when patients are attempting to fill their prescriptions early or are doctor shopping to obtain more of an addictive substance. They can track and report abuses to curb substance abuse and addiction.
Unrivaled Client Support
Finally, dental practices enjoy outstanding support from software developers who continue to advance their platforms to meet the diverse needs of healthcare providers and patients.
Now is the ideal time to transition to e-prescribing using an innovative digital platform. The onboarding process is easy. Once staff have been trained to use the software, they will find that it cuts down their workload so they can attend to other important tasks. Your dental practice will benefit greatly, working with our eazyScripts partner. Trust Denteractive to partner only with the best.

Remember, get $350 with Dentreractive and eazyScripts get a standalone 12-month e-prescription platform with a separate login, valued at $350 per year as part of your FREE account. It's easy to redeem. Call 888-574-7754 and mention the code EZS350.