Back
How Online Appointment Booking with Denteractive Partner NexHealth Can Help Your Dental Practice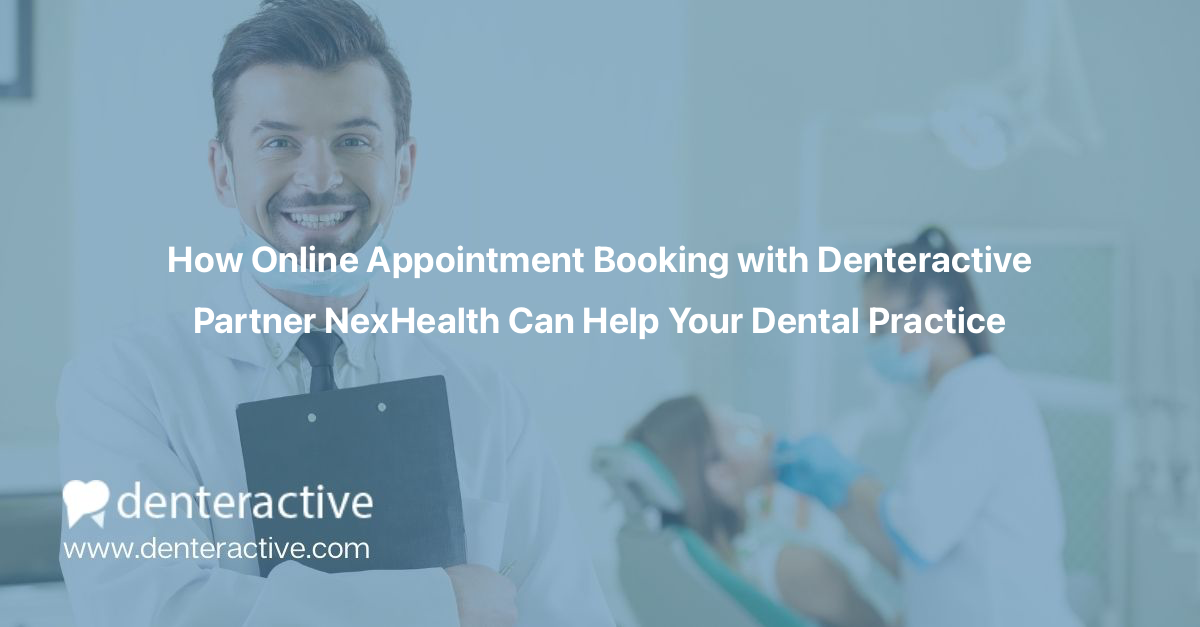 Convenience–we all want it. It is why drive-thrus, auto bill pay, and other advances are increasingly popular with people of all ages. Healthcare providers, especially dental practices, are striving to make their practices more convenient for providers and support staff as well as patients are incorporating online appointment booking to make scheduling easier. With online appointment booking with our partner NexHealth, there's no more waiting on hold, fewer booking errors, and an altogether faster process for both the provider and the patient. If you have not yet adopted an online booking platform for your dental practice, here is some information that might persuade you to give the NexHealth platform, in conjunction with Denteractive, a try.
How Do Online Appointment Booking Platforms Help Dentists?
Online appointment booking software, like NexHealth, helps dentists and their support staff. Traditionally, appointment scheduling required dedicated staff to manage bookings and schedule patients in person and by phone for their appointments. The goal is not to eliminate this position, but to make it more efficient, since the process can be notoriously cumbersome with staff members examining their books for openings and patients perusing their own calendars to find an agreeable time for themselves or other family members. Now that many dental practices are turning to online appointment booking platforms like NexHealth, they have numerous benefits to enjoy:
Increase in Appointments
When patients have access to a platform like NexHealth and can schedule themselves, they can avoid needing to call the healthcare provider during business hours and engage in a back and forth to find the available time that works best for the patient's schedule or feel pressure to take the first appointment that is offered to them. More patients simply prefer to see appointment openings for themselves so they can take the time they need to consider what will work best for them.
Retain Your Patients
Offering online appointment scheduling is an easy way to accommodate your patients' needs and encourage them to continue their care with you. The easier you can make it for them to schedule their appointments with your office, the more likely they are to do so. If you're so busy that patients feel that they cannot get in to see you when it is convenient for them, they are apt to search for a dentist who can. With NexHealth, patients can schedule their appointments well in advance and do not have to bother your staff to list all available time slots. They do not have to wait on hold simply to make an appointment and, because they're able to choose convenient time slots, they are more likely to keep their appointments.
Digitize the End-to-End Patient Experience
The world has gone digital. As a dentist, you probably rely on many digital tools and resources both professionally and personally. Like you, many, if not most, of your patients also rely on their digital tools like their smartphones and other electronic devices to organize their lives. These patients welcome a digitized scheduling experience. When you can pair digital scheduling with e-prescribing, teledentistry, online check-ins, and so forth, you can convey a greater sense of professionalism and support your patients' desire for convenience.
Fast Integration
Finally, when you decide to adopt NexHealth, you can expect a fast-onboarding experience complemented by support and problem-free integration with your practice management software, like Eaglesoft, Dentrix, SoftDent, Open Dental and others. Your staff, already accustomed to electronic scheduling systems, will quickly master a user-friendly online booking platform.
Customization
When you develop an application for booking appointments online, you can customize it to your specifications. Additionally, when designing your online scheduling form, you can control what patients see or do not see, such as administrator notes. For instance, certain appointment days may coincide with other appointments. Consequently, the dentist may tend to run late for appointments on those days. That isn't something that patients necessarily need to know, but administrative staff do, so that if there is an issue, staff are able to quickly alert patients of a delay.
Instantaneous Syncing
Another great feature of NexHealth is their instant syncing action. That is important because you want each scheduled appointment to be updated immediately to prevent double-bookings. Once a patient schedules an appointment, that time slot becomes instantly unavailable to other patients. The module can also be designed to sync with the doctors' schedule.
Compatible with Your Practice Website
Online appointment booking platforms like NexHealth are designed to be accessed right from the practice's website. Additionally, many healthcare providers offer hours at different locations, which can also be displayed on the platform. Fortunately, these appointment scheduling platforms have become extremely flexible to meet the diverse needs of providers and patients.
Patient Messaging
NexHealth allows for convenient patient messaging applications. If you require appointment confirmations, for example, you can use the messaging system to get in touch with patients and request a response.
Patient Recall
You can also customize NexHealth to provide patient recall service. The system can send direct messages to patients when the doctor wishes to have the patient schedule an appointment for further examination, discussion, or treatment. Your office can also use the recall feature to get in touch with patients when they're past due for checkups or follow-up appointments. This automation frees up your office staff from having to make these calls or send messages manually.
Online Reviews
Many healthcare providers want to retain their patients. To that end, they can customize their online scheduling software to include online reviews, with our partner Swell. Patients can enter reviews and read reviews from other patients. This is an important marketing measure that provides patients with actual references about the provider given by other patients. For the dentist, it is an additional way to market their expertise and excellent patient care.
Online Payments
Billing is, naturally, a crucial part of the provider's administrative process. Offering online payments via the scheduling software is a convenient way to invite customers to pay their bills–and a convenient method for them to pay digitally for services.
Online Forms
Finally, you can streamline the scheduling process by including online forms for patients to sign and submit electronically. These forms might simply be annual notices regarding patients' rights to privacy, updated registration information, and so forth. Patients can complete all the forms you need before the date of their scheduled appointment, making the process streamlined and convenient for everyone involved.

If you have not incorporated an online scheduling platform like NexHealth, a partner of Denteractive, into your Dental practice yet, there are many good reasons to do so. Plus, there is a strong possibility that your competition is offering it to their patients. Now is the time to start booking appointments online. See our pricing options and get started without a credit card!